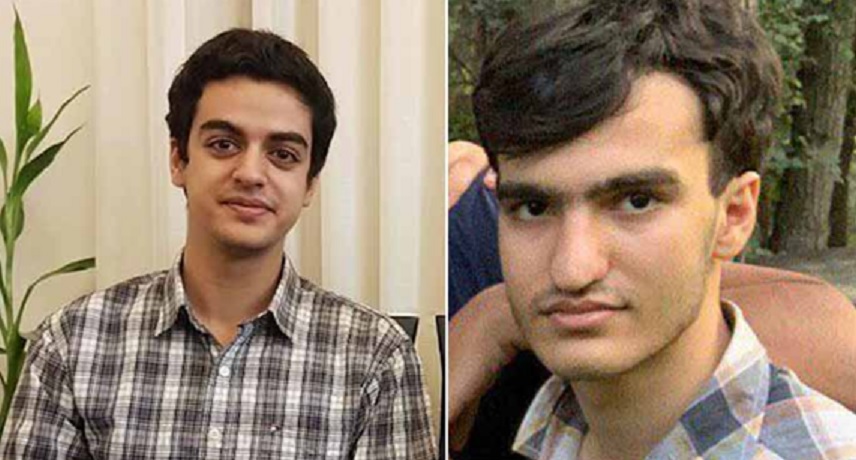 M. Mohammadian | May 10, 2020
The continuous protests of students at Sharif University demanding to know what has happened to their friend, Ali Younesi, compelled Iran's Judiciary Spokesman Gholam-Hossein Esmaili acknowledgement of his arrest 26 days earlier, claiming that Ali had ties to the Iranian regime's main opposition, NCRI/MEK which resulted in his arrest. Along with the arrest of Ali another student, Amir Hossein Moradi, was also arrested and accused with trumped-up national security charges.
Ali Younesi, 20-year-old, won the gold medal of the 12th International Olympiad on Astronomy and Astrophysics, held in China in 2018. Earlier, he had won the silver and gold medals of the National Astronomy Olympiad in 2016 and 2017. Amir Hossein Moradi also won the Olympiad silver medal in 2017.  They study at Tehran's Sharif Industrial University which is the Iranian equivalent to Harvard.
Family members and neighbors have said 12 plainclothes Iranian security agents seized Ali Younesi on April 10 as he traveled to school and returned him to their Tehran home later that day in handcuffs with his head bloodied and wounds on his body. They said the agents searched the home without producing a warrant and interrogated Ali Younesi's parents for several hours in an undisclosed station until the next day.
Although many Iranians fear the consequences of speaking out against their government, even in the Western countries, Aida Younesi, Ali's younger sister, spoke out in a video clip about what they had done to her brother demanding answers, concerning his charges. Aida Younesi was told that they were simply conducting an investigation but she argues that there is no reason for an investigation as her brother " is a student at Sharif University who teaches at multiple locations and works part-time in a company and would not have time for other activities."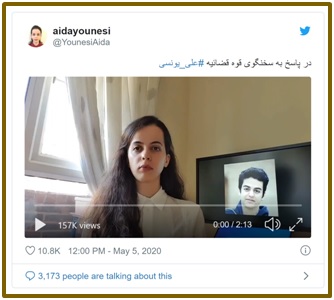 Speaking to VOA, Aida Younesi said some people anonymously have phoned her parents and demanded that they pressure her to delete her Twitter video. "They are trying to charge Ali based on our parents' distant background," Aida Younesi said, referring to the Iranian judiciary. After I said in my short video that this could not be a legitimate reason.
Also, on Tuesday, May 5th, London-based rights group Amnesty International appealed to its supporters to press Iran's judiciary to release Ali Younesi, calling him a prisoner of conscience targeted solely for his family ties and warning that he is "at risk of torture or other ill-treatment."
U.S. State Department spokeswoman Morgan Ortagus denounced the charges against Younesi and Moradi as "bogus" in a Sunday statement to the Washington Examiner. "The Iranian regime is focused on harassing rather than empowering the most talented Iranians. We join the countless Iranians and others around the world in calling for their release," Ortagus said, referring to the two students.
The France-based National Council of Resistance of Iran (NCRI), which is led by President-elect, Maryam Rajavi and advocates regime change by Iranians, responded to Iran Judiciary's charge that the two detained students have NCRI/MEK ties by calling it "trumped up". NCRI said in a May 5 statement,
"Terrified of uprising, the religious fascism ruling Iran finds no other option other than resorting to intimidation, suppression, and stepping up repression".